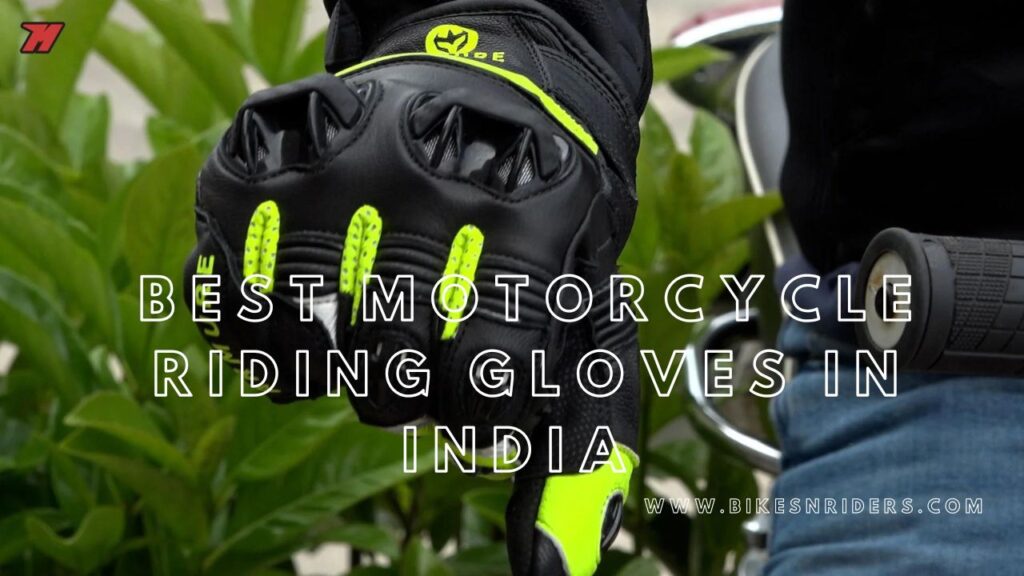 Any biker should have a good pair of motorcycle gloves. While you're riding, they not only serve to keep your hands warm and dry, but they provide much-needed protection from the weather. Knowing which motorcycle gloves are perfect for you might be challenging because there is a wide selection on the market. Here are some considerations if you're seeking for the best motorbike gloves in India.
First, take into account the weather you'll be riding in. You should opt for gloves with adequate ventilation if you live in a warm area. You will need well-insulated gloves if you ride in a cold climate.
Our Top 3 List
Having a reliable and protective pair of gloves is essential when riding motorcycles. We have identified the top 3 gloves that provide maximum protection and recommend them for all motorcycle enthusiasts.
First on our list is the Royal Enfield Vamos riding gloves. These gloves prioritize enhanced protection, especially on the knuckles, where accidents are common. Made with durable materials, they provide excellent resistance against abrasion and impacts. The knuckle protection is reinforced with a hard shell, ensuring that riders have maximum protection in case of falls or collisions.
Next up, the Hykes Full Finger gloves are designed to provide optimal grip and control. With a rubber sponge on the palms, riders can maintain a secure grip on the handlebars even in wet conditions. The breathable material in these gloves keeps the hands comfortable, dry, and warm, making them suitable for extended periods of riding, especially in cold weather.
Lastly, the PITZO Probiker Powersports Full Finger gloves offer a wide selection of features that make them complete motorcycle riding gloves. They are made from high-quality leather, providing superior durability and protection. These premium motorcycle gloves also have knuckle protection and reinforced finger protection, ensuring the safety of riders in various situations.
In conclusion, whether you are a professional racer or a casual rider, investing in a reliable pair of gloves is crucial for a safe and enjoyable riding experience.
How Did We Finalize the Best Riding Gloves?
We are committed to providing top options when choosing the best riding gloves. Our selection process involves detailed research and comparison of different products on the market. We consider factors such as price, brand reputation, customer reviews, and the features each pair of gloves offers.
1. Extensive Research: We conduct thorough research to identify the top brands and models of riding gloves. It ensures that the options we present to you are from reputable manufacturers known for their quality and performance.
2. Comparison of Features: We carefully compare the features offered by different gloves, including maximum protection, enhanced protection on knuckles, breathability, optimal grip, and more. It allows us to identify the gloves that offer the best features for your riding needs.
3. Price Analysis: Budget is an essential consideration for many riders. That's why we consider the price range of gloves and include a selection of options that cater to different budgets, from affordable gloves to premium ones.
4. Customer Reviews: We consider the feedback and opinions of actual users to understand the gloves' performance and durability better. It helps us ensure that the gloves we recommend have a track record of satisfying customers.
5. Brand Reputation: We consider the reputation of the brands behind the gloves we recommend. Brands with a proven track record of producing high-quality products and providing exceptional customer service are prioritized in our selection process.
Following this comprehensive approach, we can provide a curated list of the best riding gloves available. Whether you need gloves for cold weather, racing, or general protection, you can trust our selection to offer you the optimal balance between comfort and safety.
Bike Riding Gloves Under 3000
The Royal Enfield Vamos Riding Gloves are designed to provide enhanced protection and comfort for motorcyclists. These gloves come with KNOX knuckle protectors, which offer maximum protection for your hands against impact and abrasion. They are made of 100% leather with polyester panels, allowing them to be lightweight yet durable. Additionally, they feature Knox SPS protectors that provide excellent shock absorption. With these features, the Royal Enfield Vamos Riding Gloves are perfect for any motorcyclist looking for a reliable pair of protective gloves that will last through many rides.
View Price on Amazon
Rynox Air GT Riding Gloves are the perfect combination of comfort and protection on knuckles. The URBAN FIT ensures that you have a snug fit for maximum comfort while riding. They also offer great impact resistance, so you can be sure that your hands are well-protected. This makes them ideal for any kind of rider, whether it's a beginner or an experienced one. So if you're looking for gloves that provide great protection and comfort, then Rynox Air GT Riding Gloves are the perfect choice for you!
View Price on Amazon
These riding gloves are made using a mesh with faux leather on the outer shell. The use of nylon with polyurethane makes them highly resistant to abrasions and long-lasting. The finger joints and knuckles come with TPU or thermoformed protectors to add increased impact resistance. The palm protection is taken care of with reinforced faux leather patches.
The cuff length and fit are ergonomically designed for a comfortable fit. The dorsal area at the back of the hand and fingers have ventilation through elastic mesh panels and allow the body to flex with ease. A 360-degree velcro wrap provides a secure fit. The gloves are designed for all-weather use.
View Price on Amazon
Don't forget to check our buyers guide at the end.
Bike Riding Gloves Under 2000
The Royal Enfield Rambler V2 Riding Gloves are designed to provide maximum comfort and protection while riding. They are made of 100% poly stretch fabric and 100% air mesh, which allows for superior ventilation and breathability. These gloves also feature PR knuckle protectors at the front and back, providing an extra layer of protection in case of a fall or crash. With a snug fit and optimal grip, these gloves will help you ride with confidence.
These full-finger bike riding gloves from Hyke are made with a carbon-hard shell around the knuckles. The palm has double reinforced stitching, thus offering protection from abrasion as well as high impacts. The thumb, index, and middle fingers are made to allow using touch screens without having to remove the gloves. The material is breathable and odour-free, suitable for prolonged use without any hygiene issues. It is also fast drying making it easier to clean and maintain.
The gloves offer an ergonomic fit, wrapping securely around the wrist. The nylon webbing around the wrist allows for easier hand and finger movement so that you can ride without any hindrances. These are multipurpose gloves suitable for not just bike riding, but also climbing, hiking, cycling and many other outdoor sports.
View Price on Amazon
If you are looking for half-finger racing or bike riding gloves, then Hykes Half Finger ones may just be the ones for you. Ideal for men and women, these light-weight gloves are made using high-quality leather with double stitching reinforced along with the palms. This provides durability and increases the wear and tear resistance. The double-velcro straps along the wrists allow easier wear and removal of the gloves.
These tactical gloves use an anti-skid technology that prevents your palms from slipping off the handles. The gloves are made for prolonged use during long bike rides. The gloves have hard finger joints and knuckles along with added wrist protection. You thus get 360-degree protection for your hands with these racing gloves. The hang strap allows them to be hung anywhere so that you do not misplace them. These are multipurpose gloves suitable for various sports and use in heavy industries and activities like lumbering.
View Price on Amazon
Bike Riding Gloves Under 1000
Are you looking for a pair of Stylish Half Finger Motorcycle Riding Gloves that are both stylish and functional? Look no further than Cratos Military Green Half Finger Motorcycle Riding Gloves. These gloves are designed to provide maximum comfort and protection on knuckles while riding, with a stylish military green color that looks great on any motorcycle. The gloves feature reinforced finger joints, adjustable wrist straps, and a breathable material to keep your hands comfortable. Whether you're an experienced rider or just starting out, these gloves will help you stay safe on the road.
Steelbird Full Finger Bike Riding Gloves are designed to provide a comfortable and secure fit while maintaining touch screen sensitivity. The gloves are made of high-quality material and feature a special coating that allows you to use your smartphone without having to take off the gloves. With these gloves, you can easily use your phone while riding your bike and not worry about losing grip or control of the handlebars. The touch screen sensitivity ensures that you don't have to remove the gloves when using your phone, making it easier for you to stay connected on the go.
View Price on Amazon
The full-finger gloves from Yuntuo are made for not just bike riding, but also a range of other outdoor sports. They are made of leather lycra with microfibers and nylon to provide breathability while keeping the hands warm. The palm area has a protective-pad with wear resistance to prevent any skidding. The velcro tape along the wrist allows adjustment as required.
There are a highly-breathable mesh fabric and ventilator in the gloves that provide air circulation to keep your hands dry. You have 2 colour options to choose from- green and black. These gloves are made to be touchscreen-friendly so that you can use any smart devices with a touchscreen without having to take them off. The knuckles are made using rubber-hard knuckles for increased protection.
View Price on Amazon
The Rover V2 gloves from Royal Enfield come with a rugged design that offers a optimal grip throughout the ride. They have reinforced palms with curved fingers for added comfort. The velcro grip further adds to their ergonomic features. These gloves are made of suede fabric with a polyester blend. The mesh gloves have a polyester lining to allow for ventilation and keep the hands dry.
The KATAI microfiber patch adds to the protection around the palm and provides a good grip. The 360-degree velcro patch further secures them around your hands. The faux leather is abrasion resistant, making them one of the best gloves under 1000rs in terms of durability and comfort. You can easily clean these gloves using some mild soap or leather cleaner.
The MC08 riding gloves have a protective plastic material along with a composite fabric. This makes hands comfortable and provides a secure grip on the bike handles. There is a grip-enhancing liner used on the lower end of the gloves. The fabric is made to be repellant to dirt, water, and oil so that it is easy to clean and use for long durations.
Being genuine leather gloves, you can expect long-lasting performance with a minimal tear. There is a velcro strap at the wrist to make wearing and removing them easier. If you are looking for the cheapest motorcycle gloves in India that offer reliable performance with a durable construction, then these from Scoyo are worth considering.
View Price on Amazon
These leather gloves from Probiker are made using leather to impart a high degree of resistance to tear and heat. They are heavy-duty gloves made of tough tear-resistant material. You get a high degree of knuckle protection with the Probiker Motorcycle Gloves. Designed for long-term use, the durability of these gloves is what makes them one of the cheapest motorcycle gloves in India that you can consider.
The gloves are lightweight and stylish. They are 100% washable making it easy to keep them clean. The fingers are pre-curved to allow for a comfortable riding fit. The gloves are resistant to dirt, water, as well as oil. These gloves are available in various sizes and come with a red-black design.
View Price on Amazon
KTM is a brand known for not just their bikes but accessories as well, and with these Biker Gloves, it is easy to see why. These affordable riding gloves come in a black-orange colour, similar to KTM's signature style. The gloves are made of high-quality synthetic fabric which not only looks great but is also designed for long-lasting usage. The gloves are unisex, available in multiple sizes so that you can get the ones that fit your hand precisely.
The fingers have been designed to provide a comfortable grip while riding. You get added protection along the knuckles and the finger joints for preventing any injuries. The inner mesh surface along the palm provides an anti-slip surface as well.
View Price on Amazon
These full-finger gloves from Probiker come with an ergonomic design that provides a high degree of protection for your fingers and complete hand. The mesh fabric used in the gloves provides additional breathability. It keeps the hand cool even during prolonged use. The wrist area has a velcro tape that makes it easy to remove or wear these gloves. You can also adjust the tightness of the gloves exactly as per the required comfort level.
The area around the palm and fist has a protective shell for greater impact resistance. There are numerous anti-slip grains in the palms that make it ideal for bike riding as well as many other outdoor sports and uses. These gloves are not only high on function but style as well. The back of the hand comes with stretch nylon and a rubber sponge for added comfort and protection.
View Price on Amazon
The SSPEC Upbeat gloves by Tradition are premium-quality gloves that are made of a lightweight fabric for added comfort. This also makes the gloves highly durable, since they are resistant to most forms of wear and tear. These riding gloves are designed with a focus on comfort and protection. The index finger is made to be touchscreen-friendly so that you can operate your smartphone and other touchscreen devices without taking the gloves off.
The inner palm area of the gloves is made of soft breathable fabric, permitting prolonged use without any sweating. A velcro strap allows you to easily wear or remove them, while also helping to adjust the fit and tightness as required. There are 2 sizes available in these gloves- large and extra-large.
View Price on Amazon
Racing Gloves:
TVS Racing Riding Gloves Adventure  are the perfect choice for anyone looking for high-quality racing gloves. Designed with comfort and performance in mind, these gloves provide a secure fit while providing maximum protection. Made from lightweight and breathable materials, they feature reinforced padding on the palms and fingers to ensure a comfortable ride no matter what terrain you are tackling. With an adjustable wrist strap, these gloves provide a secure fit that won't slip or come loose during your ride. Perfect for any racing enthusiast, these gloves are designed to last through even the toughest of rides.
View Price on Amazon
Image
Title
Prime
Buy
Offer Price
KTM Moto Biker Hand Gloves for Riding

Prime

Check on Amazon
Royal Enfield Strident Riding Gloves Black & Olive

Prime

Eligible

Check on Amazon
Royal Enfield Rambler V2 Riding Gloves Olive & Black

Prime

Eligible

Check on Amazon
Prices and images pulled from the Amazon Product Advertising API on:
Tips to Find the Perfect Pair of Motorcycle Riding Gloves
1. The best motorcycle riding gloves will have a soft and durable lining
2. It is important to have both a comfortable, lightweight glove and one with gel inserts for protection
3. You want to make sure that the cuff on your gloves are adjustable, since they will be exposed to the elements on your ride
Buyers Guide: What you should know for finding the best bike gloves in India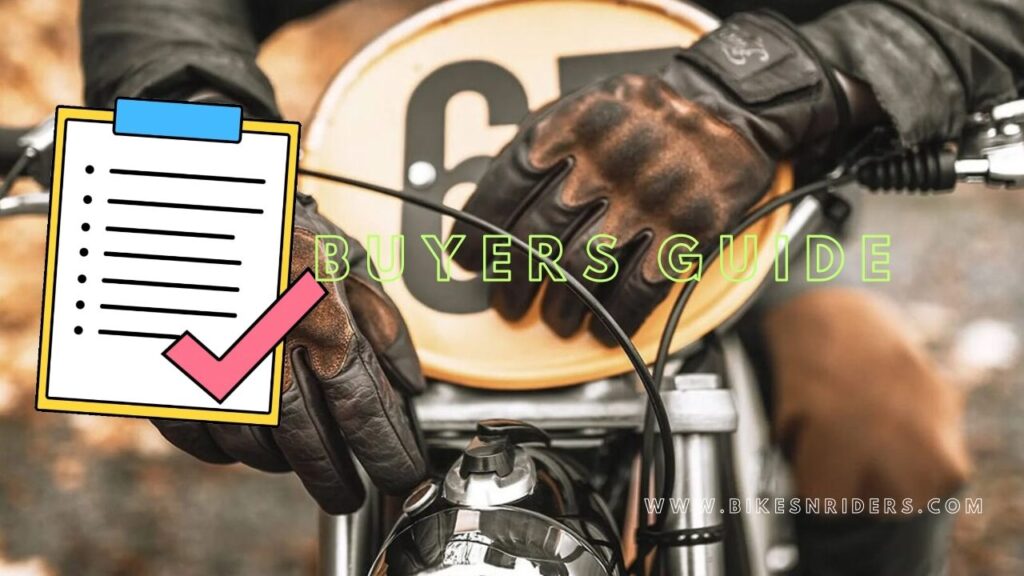 Now that you know what some of the best bike gloves in India are, the next important thing is to know the factors to be considered while choosing one for yourself. To help you with just that, we have compiled a short and concise guide containing the most important considerations.
Fit & Comfort
The fit of bike gloves is the first and most important consideration. The gloves should not be so loose that they slip off or do not provide you with a secure grip on the handle. However, they must also not be so tight to the point of being uncomfortable. Chose a fit that is secure yet comfortable when worn for extended periods.
Safety
Apart from the fit, how much protection do they offer to different areas of your hand? The reinforced fabric around the palm, knuckle and finger joint protection, and preventing the wrist from overextensions- these are the few basic safety features that every bike glove must provide.
Waterproof
If you will be frequently riding through rains or wet climates, consider getting best waterproof riding gloves in india. Do note that waterproof gloves may not be as breathable as mesh and other fabric gloves suitable for all-weather use.
Brands
Buying best riding gloves brands in india are always better than unknown brands. Check what people have to say about the brand's quality, the fabric used, construction type, and standard sizes on offer. This will help you get most out of your investment in the form of safe and value for money gloves.
Weather
Do you need gloves suitable for all-weather use? Or do you need thick gloves to keep your hands warm in extreme winters, or those that are 100% waterproof? Be specific here. While all-weather gloves may seem like the best choice, they are not ideal for extreme weather conditions.
Budget
Do have a fixed budget in mind. Gloves are an essential part of your riding gear from a safety perspective, so try to allocate a decent budget to get the best riding gloves.
Riding Style: Which one are you?
The most important thing to consider when purchasing gloves is your riding style. When choosing gloves, you should consider what type of riding you do, where and how often you ride, and the weather conditions that are typically found in those areas.
For example, if you live in a cold climate and spend almost all of your time on snow or ice-covered roads it would be beneficial to purchase waterproof riding gloves. If you live in a warmer climate, but frequently ride on dirt roads or trails during the winter months, it would be wise to invest in best motorcycle gloves for winter  that are durable against abrasions. Gloves with reinforced palm and knuckles may also be a good option for those environments. Gloves that are made of materials that allow air to flow between the fingers, such as mesh or leather, are best for warmer weather. When purchasing gloves, you should consider what type of riding you do; where and how often you ride; and the weather conditions found in those areas.
Why Should You Invest In Good Quality Motorcycle Riding Gloves?
Investing in suitable quality motorcycle riding gloves is crucial for every rider. Whether you are a professional racer or a casual rider, your hands deserve the best protection. Here are some reasons why you should invest in high-quality gloves:
1. Maximum Protection: Good quality gloves provide maximum hand protection. They are specifically designed to protect your knuckles, fingers, and palms from injury during accidents or impacts.
2. Enhanced Protection: With features like tpu-injected knuckles and plastic protection, these gloves offer enhanced protection against impacts. They help to minimize the risk of severe injuries to your hands.
3. Optimal Grip: Riding gloves are designed to offer an optimal grip on the handlebars, even in wet conditions. It ensures better control over your bike, reducing the chances of accidents or slip-offs.
4. Breathable Material: Many high-quality gloves are breathable materials that allow airflow to keep your hands comfortable and dry. It is crucial during long rides or in hot weather conditions.
5. Hands Warm in Cold Weather: Good quality gloves are often insulated to keep your hands warm during rides in cold weather. It helps to prevent numbness and maintain talent, enhancing your overall riding experience.
6. Extended Protection: Some gloves come with extended cuffs that provide extra protection to your wrists. It protects them from scratches, abrasions, and other injuries during falls or accidents.
Investing in suitable quality motorcycle riding gloves is essential for safety and comfort. They provide optimal protection and a solid grip, keeping your hands comfortable in various weather conditions. Don't compromise on quality when protecting your hands while riding. Choose the best gloves available and ride confidently, knowing your hands are in good hands.
Recommended Motorcycle Gloves
Based on the most common types of uses and applications, a few of our recommendations for the best collection of different motorcycle gloves are ahead.
Adventure/Touring
For adventure and touring, you need gloves that offer safety and comfort, which is exactly what you can get from this collection. These gloves are made for high-performance bikers who need it all. These gloves are ideal for long tours and adventure riding as they provide protection to the complete hand with an ergonomic design for long rides with comfort.
Full/short/half
For those who prefer half or short gloves that do not cover the full hand, these are some of the best ones that you can get both in terms of durability and style are. These short and half hand gloves for bike riding are made with a breathable fabric to provide ventilation and keep the hands cool and sweat-free. Short and half gloves are ideal for all types of bike riders and many other outdoor sports.
Gauntlet
Gauntlet gloves a high degree of protection to your entire hand and wrist while riding and during a variety of other activities. As some of the best ones in the market, you can expect to get it all with these gauntlet gloves. These gloves are highly abrasion-resistance and protect you against severe impacts and external conditions. You can use these gauntlet gloves for bike riding and many other outdoor applications.
Offroad
Offroading demands the use of all-weather gloves that are resistant to weather elements and suitable for prolonged use under tough conditions, which is exactly what these gloves offer. These gloves are made with a high degree of impact and tear resistance, suitable for even the toughest of off-roading conditions with long-lasting design.
FAQ
Which is the Best riding gloves for royal enfield?
The Royal Enfield Rambler V2 Riding Gloves is considered to be the best for Royal Enfield motorcycles.These gloves have a Kevlar inner for enhanced protection and are made of premium leather.Moreover, they offer touch screen-friendly fingertips and a pre-curved shape for a comfortable fit. 
Which is the best waterproof riding gloves india?
The Rynox Tornado Pro 3 Riding Gloves are one of the best options for waterproof riding gloves in India. These gloves are made of high-quality leather and come with a Hipora waterproof lining to keep your hands dry in wet conditions. They also feature reinforced knuckles, fingers, and palms for added protection.
Which are the best bike riding gloves brand in India?
The best bike riding glove manufacturers in India include Alpinestars, Royal Enfied, Rynox, Cramster, and Spartan. A variety of gloves with different features and grades of protection are available from each of these brands. 
Is Alpinestars riding gloves available in India?

 
Yes, Alpinestars riding gloves are available in India through various online and offline retailers, including Amazon India.
What is the price of bike riding gloves in India?
In India, the cost of bike riding gloves ranges based on the brand, the features, and the level of protection. Basic gloves can be purchased for as little as ₹500, while more expensive gloves can cost as much as ₹5000. Good quality gloves typically cost between ₹1000 and ₹3000 and Amazon India offers a variety of possibilities. 
Conclusion
As you search for the best bike gloves in India, our short guide with picks for the top products in the market should help you get on the right path. For those who do not want to compromise on anything and want nothing less than the best in terms of quality, the Royal Enfield Short Riding Gloves are easily the best pick out of them all. With a hard outer shell, high impact protection, and erognimic design, you get both comforta and safety with these gloves.
For those looking for the cheapest motorcycle gloves that offer high value for money, these Probiker Leather Motorcycle Gloves are the ideal choice. As one of the best gloves under 1000Rs., you get a highly-durable pair of gloves that is resistant to tears and high temperatures. The ergonomic design having pre-curved fingeres fits bike-riding style. Being repellant to dirt and oils, you can be sure of comfort, safety, and durability with these affordable riding gloves.