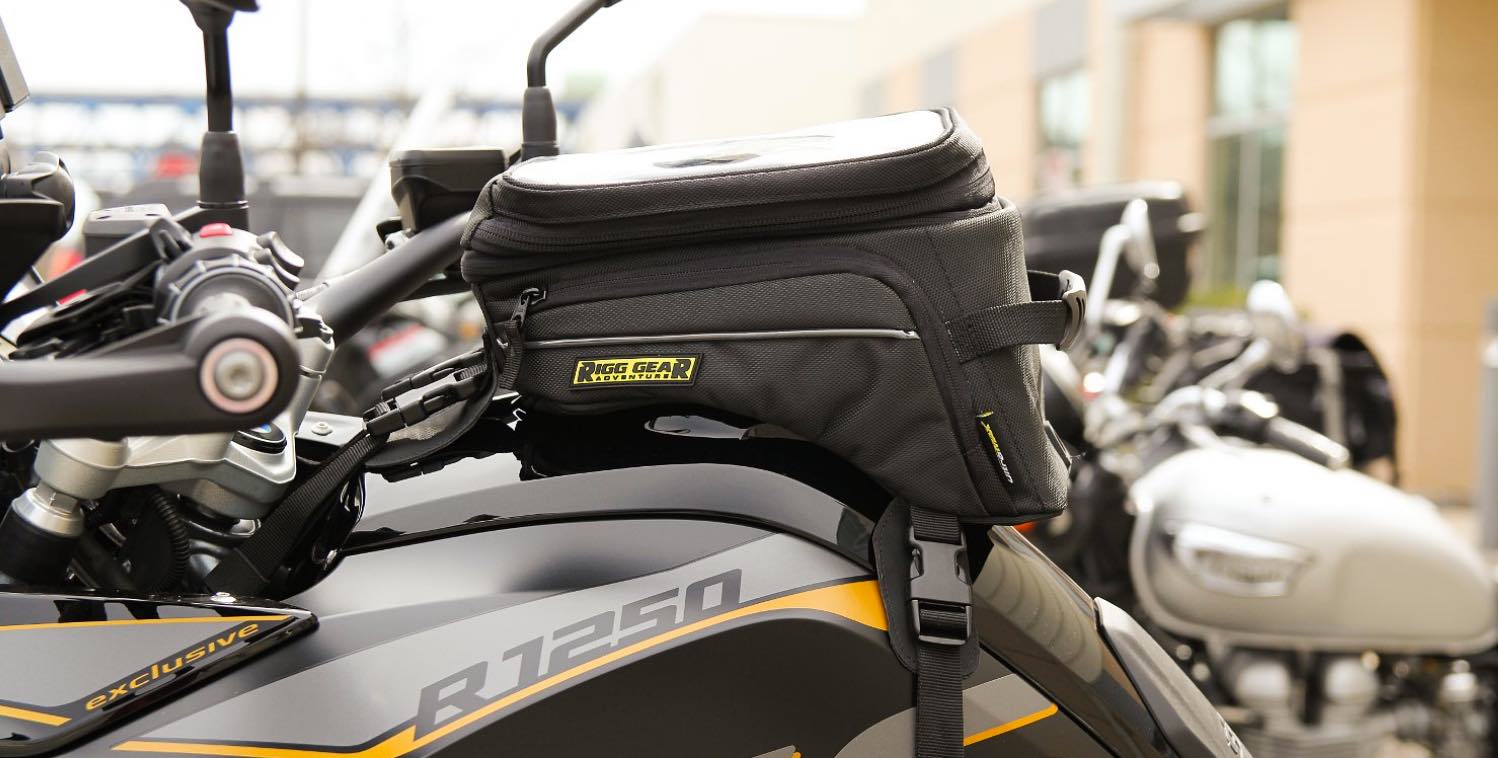 The increasing popularity of long-distance bike ride adventures has led to a rise in demand for saddle bags in India. Thy can become the perfect luggage companion on these outdoor expeditions. You can fill them up with your tools, clothes, gadgets and other necessary items that you want to travel with. So, if you and your bike are ready for heading out on an adventure it is time to accessorize it correctly so that you get maximum enjoyment during your trip.
Below are the best saddle bags for bikes in India.
Upgrade your motorcycle rides with GR GOLDEN RIDERS Saddle Bags! Our double stitched saddle bags are made with advanced heavy-duty stitching machines for maximum durability, and are perfect for your short or long trips. Enjoy added safety at night with 3M reflective tape that ensures visibility during low-light conditions. Get ready to ride in style and comfort with our GR GOLDEN RIDERS Saddle Bags today!
Buy on Amazon
At the top of our list is the Gypsy travel saddle bag from Dirtsack. The weatherproof bag is manufactured using sturdy denier ballistic fabric that comes with a storm-proof top panel. The Gypsy Dirtsack is one of the largest capacity tail bags as it is designed for ride stability. A 4 point tie-down system reduces displacement during the ride and can be tightened with the 4 bungee attachment points. There are a bunch of extra straps on the top for you to add more bags making this saddle bag an ideal companion for long rides.
The shoulder straps, short-swing straps, YKK zippers, and the reflective straps are all manufactured using the best quality of products and components. The product is compatible with all pillion seat or tail rack motorcycles and can be comfortably loaded up to 60 liters.
Buy Now on Amazon
Manufactured using the weather-resistant 1000D polyester, this bike saddle bag is tough and waterproof. The saddle bag sits comfortably on either side of the pillion seat and contains two separate bags of equal size and capacity. Apart from spacious interiors, the bag has 4 external pockets for storing snacks, keeping water and other handy items.
The saddle bag can be secured in place with the safety belts and metal hooks. These allow the bag to stay put even on rough roads providing you with more stability. As an additional safety measure, the bag contains enough reflective stripes to make it visible even in the poorest of weather conditions. Ideal for a Royal Enfield long ride, the bag is one of the best luggage companions available at this price.
Buy Now on Amazon
The best feature of the Royal Erado RGSB-37 is its affordability. Considering the price at which it is marketed, the motorcycle saddle bag contains simple features to make it an attractive buy if you have a tight budget. The bag is made using leatherette and has a holding capacity of just 20 liters. Additionally, the 2 saddle bags are permanently attached together and can't be used separately as is the case with most other bags.
There aren't any exceptionally distinguishing features and the bag is not suited for poor weather conditions. Firstly, because it is not waterproof; secondly, because it does not come with any reflective stripes. Overall, this Royal Erado product serves the basic purpose of being a motorcycle saddle bag for long rides.
Buy Now on Amazon
The versatile Roadgods Zeon R1 is suitable for long as well as everyday rides. The tank bag is sturdy and comes with an easy to install 3-buckle attachment apparatus. The bag has certain unique features that make it extremely user-friendly and convenient to ride along with. The convertible bag can be conveniently transformed from a tank gear to a sling bag with the included straps.
Additionally, a touch-sensitive pocket allows you to store your smartphone and use it for navigation purposes on your ride. As the bag rests on your tank, it offers the feature of a single click petrol refill. The tough nylon fabric comes with PU coating making the bag water repellent and resistant. The bag is spacious and can carry up to 14 liters. Overall, the bag can easily give competition to some of the best saddle bags for bikes in India.
Buy Now on Amazon
At first glance, the Viaterra Claw is not your traditional saddle or tail bag. With its modern looks and unique design, this waterproof saddle bag for bikes is compatible with almost all Indian motorbikes. It can also be tried upon some imported models as well. The bag is made rugged and sturdy in spite of its modern looks. There is enough internal padding to protect your stuff and the exterior can be protected against the weather using the rain cover.
However, it can be slightly congested for the pillion when the bag is mounted on the seat. While the bag has sufficient internal storage space it lacks capacity in the external pockets that can come in handy for tools and water bottles. Overall, it is one of the better-built saddle bags for motorcycles in India.
Buy on Amazon
Review from Users:
"Highly impressed with the quality of this product and how it fits on my bike. I actually did a trial ride after filling it up and coupling it up with a 2 man tent. Works just perfectly. Didn't nudge a bit from its place.

Best features:
1. 2 large 2 pockets to accommodate 2 fuel cans
2. Inner water proof dry sack and outer water proof cover
3. Bag material quality and stitch quality
4. Fits perfectly and easy to tie and untie the bag to the bike."

Buy Now on Amazon
Genxtra Saddle Bag
Price and capacity are the biggest features of this saddle bag from Genxtra. As one of the largest saddle bags available in the market today, the Genxtra comes with nearly 90 liters of capacity for your items. Apart from the interior, the bag is adorned with numerous pockets on the outside to hold your tools, water, gadgets, etc. The tough and sturdy bag is made using 900D polyester and can provide some water protection. Additionally, the saddle bag comes with top side handles and back straps making it convenient to mount and unmount. Further, this Genxtra product is lined with reflective straps making it visible at night and in poor weather conditions. Overall, this is an ideal product if capacity is your top priority. It can be an ideal companion for long bike rides and can be considered as one of the best saddle bags for bikes in India.
Buy Now on Amazon
Upgrade your Royal Enfield with TRP TRADERS saddle bags and make your ride more comfortable and stylish! Our saddle bags are designed to fit your bike perfectly and provide ample storage for all your essentials. Made of water-resistant material, each bag has a single zip compartment with a capacity of 20 liters. Get the most out of your rides with TRP TRADERS saddle bags!
Buy on Amazon
Things to consider before buying
Considering the large variety of saddle bags available, selecting the right one can be quiet confusing. However, this process can be simplified if you are aware of your requirements. These are the top 6 attributes that can help you decide on the best saddle bags for bikes in India.
Compatibility – Not all saddle bags are compatible with all bikes. Therefore, before you make a purchase ensure that the bag will fit securely in your motorcycle. Also, make sure you purchase a bag that comes with full mounting gear and instructions. A missing piece can prove to be hazardous during the ride. Further, ensure that the saddle bag does not come in contact with the wheel or the muffler.
Capacity – Saddle bags come in all shapes and sizes. Knowing the capacity that you are after can help in preparing a shortlist of bags that comply with your requirements. The capacity requirement will also depend upon if you are a single rider or will have a pillion to consider.
Security – Apart from securing the bag to your bike the saddle bag should also have an inbuilt locking mechanism that can keep your things secure. This allows you to securely leave your bag on the bike when you are taking a break or making pit stops. Most top products come with this feature and it should not be sidelined.
Convenience – Make sure that you invest in a bag that is convenient to use when you are riding. The bag should fit well on the bike and stay stable. It should not make the ride uncomfortable. If convenience is a top criterion then go for bags that come with easy release buckles and straps that allow you to carry them comfortably.
Weatherproof – You can never be sure what weather you may encounter when heading out for a ride. Especially, if you are on a long trip. Therefore, it makes sense to invest in a saddle bag that will provide you with the necessary protection from the weather conditions. Also, go in for thicker material bags as they tend to last longer.
Style – Style essentially depends upon the rider. Normally, if this is one of the points that you want to consider seriously, then the bag should match the look and feel of your bike. For instance, go for a bag that has studs if there are studs present on the seat of your bike. 
Conclusion
Accessories are useful only when they serve the purpose they are intended for. The saddle bags should be able to organize the things as you want them to be and must be sturdy enough for the long rides that they are designed for. Therefore, don't go overboard in styling your bike. Research and finalize on a saddle bag that is the best fit and offers all the features that are most important to you. The products reviewed here are some of the best saddle bags for bikes in India and you are sure to find your favorite among them.
Compare other saddle bags
Image
Title
Brand
Prime
Buy
ViaTerra Claw - Motorcycle Tail Bag with raincover Incl. (Black)
ViaTerra

Prime

Eligible

Buy Now
TRP TRADERS Heavy Duty Customized Throwover Saddle Bag, Shifter Bag for Royal Enfield Harley BSA Norton
TRP TRADERS

Prime

Eligible

Buy Now
Auto Hub Waterproof Bike Twin Saddle Bags - Black
Auto Hub

Prime

Eligible

Buy Now
Raida ThruX Motorcycle Thigh Bag
Raida

Prime

Eligible

Buy Now
Dhe Best BG-02 Bike Waterproof Side/Rear Saddle Bag Round Style Tool Bag Black for Royal Enfield Bullet Electra
Dhe Best
No Prime Logo
Buy Now
Prices and images pulled from the Amazon Product Advertising API on:
Other Accessories
Image
Title
Price
Prime
Brand
Buy
Le Gear Face Mask Pro+ for Bike, Ski, Cycling, Running, Hiking - Protects from Wind, Sun, Dust - 4 Way Stretch - #1 Rated Face Protection Mask (Black)

Prime

Eligible

Le Gear
Buy on Amazon
Autofy Multipurpose Ultra Flexible Bungee Rope/Luggage Strap/Bungee Cord with 10 MM Diameter and Metal Hooks (Multicolored, Set of 4)

Prime

Eligible

Autofy
Buy on Amazon
MOM'S GADGETS Automobile Motorcycle Repair Tool Kit Case (Set of 40 Pieces)

Prime

Eligible

MOM'S GADGETS
Buy on Amazon
Vatsas Waterproof, Unbreakable and Universal Silicone Mobile Phone Holder for Bike, Cycle, Scooty and Motorcycle - For 2 Wheeler KTM duke, Royal Enfield, Hero, Bajaj for GPS Navigation and Google Maps

Prime

Eligible

Vatsas
Buy on Amazon
Glamio High Strength Elastic Nylon and Polyester Bungee/Shock Cord Cables, Luggage Tying Rope with Hooks (Multicolour) - Set of 5

Prime

Eligible

Glamio
Buy on Amazon
TIREWELL TW-7001 12V Digital Tyre Inflator Auto Cutoff Portable Air Compressor with LED Light and 3 Different Nozzle (200 PSI)

Prime

Eligible

TIREWELL
Buy on Amazon
vnetphone V6 Waterproof Full Duplex 2-Way Audio Motorcycle Bluetooth Intercom Headset with Advanced Noise Control

Prime

Eligible

VNETPHONE
Buy on Amazon
R Dabhi High Pressure Car Bike Wash Garden Watering Spray Gun with Nozzle

Prime

Eligible

R Dabhi
Buy on Amazon
BLP Adjustable Motorcycle Handlebar Cross Bar for Royal Enfield Bullet Classic 350, 500, Chrome, Desert Storm, Standard 350, 500, Electra EFI, Twins, Twinspark (Blue)

Prime

Eligible

BLP
Buy on Amazon
Safeseed Universal Waterproof Bike Dual USB Motorcycle Handlebar Charger with Switch

Prime

Eligible

SAFESEED
Buy on Amazon
Le Gear Premium Skull cap - Black & Beige Combo

Prime

Eligible

Le Gear
Buy on Amazon
Prices and images pulled from the Amazon Product Advertising API on: